Some of you may have noticed the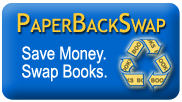 button I placed in the sidebar reading Paperback Swap. This is one of the best things I have found. How it works, for every 5 books (hardback OR paperback) you list, you get 1 credit to get a book. Then for every book you mail out, you get a credit to request a book. The only cost is shipping, and that is quite low. You can choose to print and pay postage on the site, based on the ISBN number entered, it estimates the weight, and prints at the MEDIA RATE, which is the lowest available. You also have the option of going to the post office and mailing it there. If you mail from the website, it prints the label and gives you instant credit for the book, otherwise the recipient has to log in and mark it received once they get it. There is also a video on the site showing in depth how the whole process works.
As someone who reads A TON of books, this is ideal for me. The library is about 15 miles away, and not near anywhere that I shop. Also, I like to hold on to books for a bit and read them at my own pace. This is perfect. You can keep the books you get forever if you want, they are yours. I often re-list and re-trade books once I am done, to get more books!
I have been a member here for 3 years, and never had any issues. The books have always been in the state the trader stated, and have arrived quickly in the mail. I use paypal (or leftover visa giftcards with small random amounts on them) to pay for postage and can mail out books without ever leaving the house!
They also have sister sites for CD's and DVD's. Let me know if you want a referral, and I'll send you one. I think referrals get either one free credit towards and item, or 1 free shipping credit, I have forgotten which one, LOL:)
Happy Reading!