I have to leave in a few minutes for Physical Therapy, but decided to participate in a quick blog hop while waiting for Logan and Aaron to finish getting ready. We have packed lunches for after because I have to get Logan back for Kindergarten within 20 minutes of my scheduled finish time. Hopefully they aren't running behind! On to the Hop.....
Welcome to this week's Tuesday Tag-Along blog hop, hosted by
Twee Poppets Review and Giveaway
! This is a great way to discover new blogs while increasing the number of followers for your own blog. Please feel free to grab the TTA button for your blogroll to help bring more bloggers to this blog hop!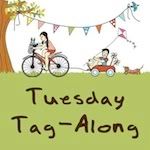 Tuesday Tag-Along button art adapted from the "Follow the Leader
" illustration by
Diana Jones
. I encourage you to visit her at her blog, Sketch & Jones, and her online shop to see more great illustrations and all sorts of wonderful crafts!
Trailing Tuesdays are hosted by
Familylicious
,
Nine More Months
, and
Sugar Pop Ribbons
! What is Trailing Tuesdays you ask? Well, it's a great way to advertise your blog and find new friends not only for your blog but for your Facebook and Twitter pages as well.